Professor Marek Kwiek, in his capacity as the UNESCO Chair in Institutonal Research and Higher Education Policy, was invited to an expert group led by UNEESCO IESALC by Dr. Emma Sabzalieva.
His concept notes available in three languages are below:
"Higher Education in 2050: High Participation and Vertical Stratification (A Concept Note for IESALC UNESCO, Futures of Higher Education, 2021)"
A composite photo is below: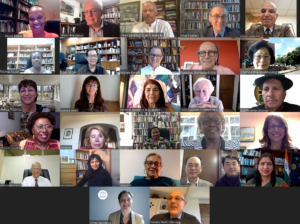 As part of IESALC's project on the Futures of Higher Education, we are collaborating with higher education experts from every part of the world. Our team of experts are highly distinguished figures with extensive experience in teaching, researching and/or enacting higher education. Working with these experts, we are generating innovative and visionary ideas about the purpose and functions of higher education around the world as it might be thirty years from now.
Each expert prepared a concept note sharing their views, ideas, and expertise on the two key questions this project is exploring: How would you like higher education to be in 2050? How could higher education contribute to better futures for all in 2050?
We invite you to read their concept notes, which are available below in English, French and Spanish.
In addition, IESALC together with the UNESCO Future of Learning and Innovation team are organizing a series of workshops with this group. The workshops provide opportunities to dialogue and develop the ideas and thinking developed in the concept notes.
Concept notes
Professor Naomar Almeida-Filho, Institute of Advanced Studies at the University of São Paulo, Brazil
English – Français – Español​​​​
​​​​Professor N'Dri Thérèse Assié-Lumumba, Director of the Institute for African Development, Cornell University, USA 
Professor Ronald Barnett, Emeritus Professor of Higher Education, University College London, UK
Professor Sir Hilary Beckles, Vice Chancellor, University of the West Indies
English – Français – Español
Professor José Joaquín Brunner, Universidad Diego Portales, Chile
Professor Michael Cross, Director of the Ali Mazrui Centre for Higher Education Studies, University of Johannesburg, South Africa 
​Professor Jocelyne Gacel-Ávila, Coordinator of the LAC Regional Observatory on Internationalization and Networks in Tertiary Education, University of Guadalajara, México 
Professor Liu Haifeng; College of Education, Zhejiang University, China
Professor Ahmad Y. Majdoubeh, Vice President for Humanities, University of Jordan, Jordan 
Professor Mpine Makoe, The Commonwealth of Learning Chair OER, The Institute for Open Distance Learning, The University of South Africa, South Africa 
Professor ​Emerita Takyiwaa Manuh, Institute of African Studies, University of Ghana, Ghana
Professor Simon Marginson, University of Oxford, UK
Dr. Pankaj Mittal, Secretary General, Association of Indian Universities, India
Professor Marcela Mollis, Research Director on Comparative Higher Education, Instituto Universitario de la Cooperación, Argentina
Professor Rajani Naidoo, Director of the International Centre of Higher Education Management and UNESCO Chair in Higher Education Management, University of Bath, UK
English – Français – Español​​​​
Dr Oomandra Nath Varma, Director, Mauritius Institute of Education, Mauritius 
Dr. Dorcas Beryl Otieno, OGW, UNESCO Chair on Higher Education Development for a Green Economy and Sustainability,Senior Lecturer, Kenyatta University, Kenya  
Professor Dzulkifli (Dzul) Razak, Rector, International Islamic University Malaysia ​
English – Français – Español – Video version, Arabic and Bahasa Melayu – opens IIUM website
Professor Nagla Rizk, The American University in Cairo, Egypt 
Professor Patricia Mariella Ruiz Bravo Lopez, UNESCO Chair in Gender Equality in Higher Education, Pontifical Catholic University of Peru, Perú 
Professor Emeritus
 Chanita Rukspollmuang
, Vice President, Siam University, Thailand 
Luis Fernando Sarango Macas, Pushak/Rector, Pluriversidad Amawtay Wasi, Ecuador 
Professor ​Linda Tuhiwai Smith, University of Waikato, New Zealand
Professor Felisa Tibbitts, UNESCO Chair in Human Rights and Higher Education, Chair in Human Rights Education, Utrecht University, Netherlands