Marek Kwiek will serve another term (2021-2025) in the Editorial Board of "Higher Education Quarterly" (Wiley), with distinguished international colleagues.
He has started his service back in 2005.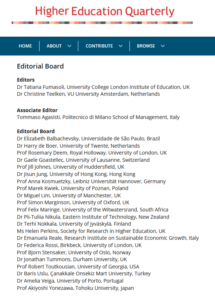 Aims and Scope
Higher Education Quarterly is an international scholarly journal publishing research on policy, organisation, leadership, governance, management and the professions in higher education. In order to be considered, papers need, on the one hand, to draw on sound theories and methodologies; on the other hand, they have to contribute to contemporary debates on higher education. We welcome high-quality academic papers that have potential for impact on policy and practice.
Higher Education Quarterly is eclectic in relation to theories, concepts and methodologies, as it aims to develop our understanding of higher education and its current challenges from a diversity of approaches. Authors are required to contextualise their research against an international background; we generally do not publish single case studies. Comparative approaches may include cross-sectional, longitudinal and international analyses, and can be based on both qualitative and quantitative data.
Manuscripts, conceptual or empirical, should be indicatively 6000-7000 words, including tables, figures and references. Data, appropriately anonymised, should be made available upon request in the review process or for purposes of replicability.
Submissions that are not considered strong enough to succeed in the review process are normally desk rejected within two weeks.
Editorial Board
Editors
Dr Tatiana Fumasoli, University College London Institute of Education, UK
Dr Christine Teelken, VU University Amsterdam, Netherlands
Associate Editor
Tommaso Agasisti, Politecnico di Milano School of Management, Italy
Editorial Board
Dr Elizabeth Balbachevsky, Universidade de São Paulo, Brazil
Dr Harry de Boer, University of Twente, Netherlands
Prof Rosemary Deem, Royal Holloway, University of London, UK
Dr Gaele Goastellec, University of Lausanne, Switzerland
Prof Jill Johnes, University of Huddersfield, UK
Dr Jisun Jung, University of Hong Kong, Hong Kong
Prof Anna Kosmuetzky, Leibniz Universität Hannover, Germany
Prof Marek Kwiek, University of Poznan, Poland
Dr Miguel Lim, University of Manchester, UK
Prof Simon Marginson, University of Oxford, UK
Prof Felix Maringe, University of the Witwatersrand, South Africa
Dr Pii-Tuliia Nikula, Eastern Institute of Technology, New Zealand
Dr Terhi Nokkala, University of Jyväskylä, Finland
Ms Helen Perkins, Society for Research in Higher Education, UK
Dr Emanuela Reale, Research Institute on Sustainable Economic Growth, Italy
Dr Federica Rossi, Birkbeck, University of London, UK
Prof Bjorn Stensaker, University of Oslo, Norway
Dr Jonathan Tummons, Durham University, UK
Prof Robert Toutkousian, University of Georgia, USA
Dr Baris Uslu, Çanakkale Onsekiz Mart University, Turkey
Dr Amelia Veiga, University of Porto, Portugal
Prof Akiyoshi Yonezawa, Tohoku University, Japan