Another issue of "Science and Higher Education" (Nauka i Szkolnictwo Wyższe) is available now online and in print, 197 pages. A full PDF version of the issue is available  from here.
"Science and Higher Education" is the only Polish academic journal focused exclusively on higher education research.
All 48 volumes (from 1993 onwards) are available here:
http://pressto.amu.edu.pl/index.php/nsw/issue/archive
Marek Kwiek is its editor in chief and Krystian Szadkowski is its managing editor.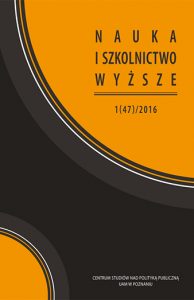 Marek Kwiek's Introduction is on "Deprivatization of higher education in Poland. What it means? What are its consequences?".
Simon Marginson's paper is on "Public/private in higher education: A synthesis of economic and political approaches" (in a Polish translation).
Spis treści
Marek Kwiek // Wprowadzenie. Deprywatyzacja szkolnictwa wyższego w Polsce. Co oznacza i jakie niesie konsekwencje?
Simon Marginson // To, co publiczne i prywatne w szkolnictwie wyższym. Synteza podejścia ekonomicznego i politycznego
Artykuły
Piotr Kowzan, Małgorzata Zielińska // Pochłaniacze czasu – doktorzy na uczelniach w Polsce wobec organizacji czasu ich pracy
Justyna M. Bugaj // Wynagradzanie za efekty pracy nauczycieli akademickich – analiza przypadku Uniwersytetu Islandzkiego
Jakub Brdulak // Ocena jakości kształcenia w Polsce – problemy i rekomendacje
Sylwia Breczko // Książka naukowa – między środowiskiem akademickim a branżą wydawniczą
Małgorzata Rymarzak // Autonomia i rozliczalność uczelni w zakresie nieruchomości – przypadek Polski
Raporty z badań
Piotr Rodzik // Nadane stopnie i tytuły naukowe – czy coś się zmieniło?
Anna Maria Kola // Doktoranci – grupa wybrana czy przegrana? Prezentacja wniosków studium teoretyczno-empirycznego na temat studiów doktoranckich w Polsce
Noty o autorach