A new issue of "Science and Higher Education" (Nauka i Szkolnictwo Wyższe) is available now online and in print, 282 pages. A full PDF version of the issue is here.
"Science and Higher Education" is the only Polish academic journal focused exclusively on higher education research.
All 47 volumes (from 1993 onwards) are available here:
http://pressto.amu.edu.pl/index.php/nsw/issue/archive
Marek Kwiek is its editor in chief and Krystian Szadkowski is its managing editor.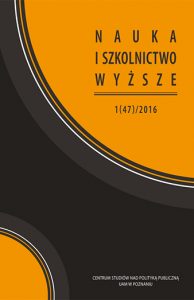 Marek Kwiek's Introduction is on "Financing Higher Education under Conditions of Permanent Cross-Sectoral Competition" – and is available here.
Ulrich Teichler's paper on "Higher Education Research in Europe" (in a Polish translation) – is available here.
And Marek Kwiek's paper on "Academic Career in Europe: Instability under Conditions of Competition" – is available here.
Spis treści
Marek Kwiek // Wprowadzenie. Finansowanie szkolnictwa wyższego w warunkach permanentnej (międzysektorowej) konkurencji o środki publiczne
Ulrich Teichler // Badania szkolnictwa wyższego w Europie
Agata Zysiak // "Bramy uniwersytetu otwarte dla klas pracujących!" Powojenna przebudowa imaginarium społecznego i projekt uniwersytetu socjalistycznego
Daniel Kontowski // Wariacja na temat: MISH a edukacja liberalna
Agnieszka Anielska // Polskie szkolnictwo wyższe wobec studentów nietradycyjnych. Strategie uczelni w obszarze kształcenia dorosłych jako problem badawczy
Jacek Lewicki // Nowe wyzwania walidacji w polskich uczelniach – potwierdzanie efektów uczenia się osiągniętych poza szkolnictwie wyższym
Justyna Maciąg // Zastosowanie podejścia procesowego w zarządzaniu publicznymi szkołami wyższymi – wyzwania teorii i praktyki
Małgorzata Zielińska, Piotr Kowzan // Mobilność zagraniczna polskich doktorów – możliwości i bariery
Marek Kwiek // Kariera akademicka w Europie: niestabilność w warunkach systemowej konkurencji
Dominik Bień // Studia trzeciego stopnia w polskich uczelniach – funkcjonowanie, diagnoza, rekomendacje
Noty o autorach