Marek Kwiek has just published a paper in Revista de la Educación Superior: "La desprivatización en la educación superior: un enfoque conceptual".
The paper is available here.
Resumen
Este trabajo busca conceptualizar los procesos de la desprivatización en la educación superior. Las tendencias de la desprivatización (y la contracción de las inscripciones) resultan muy interesantes porque van a contracorriente de las tendencias globales de la privatización (y de la expansión educativa). La desprivatización significa el papel decreciente del componente privado en la dinámica cambiante respecto al sector público. El artículo estudia sus dos dimensiones (financiamiento y provisión) y distingue entre siete potenciales niveles de análisis empíricos organizacionales/geográficos, enfatizando la utilidad actual de una distinción clara entre lo público y lo privado en algunos contextos empíricos. El trabajo se apoya en datos de Europa Central (Polonia, Rumanía, Bulgaria y Estonia). Se muestra que la tradicional dicotomía entre lo público y lo privado es aún útil en contextos específicos, a pesar de que se haya vuelto borrosa globalmente.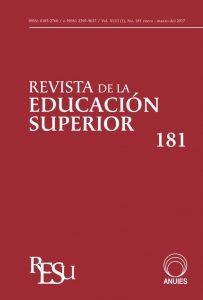 RESU publishes original, scholarly articles about higher education in Mexico, while also focusing on broader international issues and debates. Its readers include administrators and researchers interested in the areas of educational planning, evaluation and management. RESU publishes scholarly articles, academic essays and critical reviews, all of which seek to contribute to readers´ conceptual and analytical foundations, while furthering their knowledge of the challenges faced by higher education institutions, both at home and abroad.
Main topics of interest: RESU publishes articles about the performance of higher education institutions, their structures, the main players involved, and the challenges they face, viewed from both disciplinary and interdisciplinary perspectives. Articles may involve particular case studies or employ a comparative approach, in order to promote an informed debate on the most relevant issues facing higher education today. RESU also seeks to publish articles that provide critical analysis of the concepts, assumptions and paradigms that constitute higher education studies, as well as promote discussion of new approaches and concepts that may strengthen the field.
Editor in Chief
Imanol Ordorika
Universidad Nacional Autónoma de México