Prof. Marek Kwiek w najnowszym konkursie NCN – PRELUDIUM BIS – otrzymał ponad 0,5 mln PLN na projekt "Produktywność badawcza i wzorce współpracy w nauce globalnej. Ujęcie teoretyczne" realizowany w latach 2020-2024 (48 miesięcy).
Zdolny i pracowity doktorant do udziału w projekcie poszukiwany!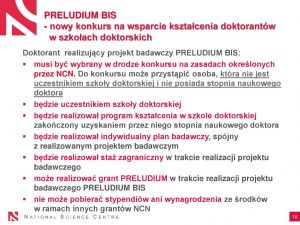 Centrum poszukuje bardzo zdolnego młodego człowieka kończącego własnie (lub w zeszłym roku) studia. Lub doktoranta 1 roku, który chciałby się przenieść na pisanie doktoratu na 4 lata do Centrum i nowej Szkoły Doktorskiej UAM (powstałej w 2019 r.).
Oferujemy 2 lata po 5 tys. PLN i dwa lata po 6 tys. PLN netto (razem 48 miesięcy) oraz 3-6 miesiecy w USA w ramach stażu NCN/NAWA (sfinansowany).
Wyjazdy, konferencje międzynarodowe i dużo środków na badania.
Generalnie w pracy będzie sporo data science, computational social science, big data – wykorzystanie dużych baz danych w części empirycznej.
Obszar: ilościowe badania nauki (quantitative science studies), science and technology indicators, naukometria.
Obiecujemy publikacje w 90-95 percentylu czasopism w Scopus, dyscyplina doktoratu to nauki społeczne.
Umysł bystry, analityczny, chętny do nauki, z dobrym angielskim. Pracowity…
Chyba najważniejsza jest zdolność i chęć do nauki – oraz myślenie analityczne.
Konkurs na UAM odbędzie się latem, praca przez 4 lata od 1 października, czyli kandydat musi być po obronie pracy mgr.
Zostanie przyjęty, po wygranym konkursie, do Szkoły Doktorskiej UAM (która dysponuje potężnymi środkami na umiędzynarodowienie z Inicjatywy IDUB – Uczelnia Badawcza).
Streszczenie popularnonaukowe
Celem projektu jest stworzenie teoretycznych podstaw do badania zmieniających się, wzajemnych relacji między produktywnością badawczą (na poziomie jednostek, instytucji i krajów) a wzorcami współpracy (na tych samych poziomach) w wyłaniającej się globalnej nauce ostatnich dwóch dekad (2000-2021). Nauka światowa, napędzana przez samych naukowców i ich zainteresowania badawcze, istnieje równolegle, a nie zastępuje tradycyjnej nauki międzynarodowej napędzanej przez rządy krajowe i ich krajowe systemy finansowania. Empiryczne spostrzeżenie, że roczny wzrost produkcji naukowej w najważniejszych zachodnioeuropejskich systemach szkolnictwa wyższego w ostatniej dekadzie (2009-2018) pochodzi wyłącznie z międzynarodowych publikacji współautorskich, sprawia, że ponowne przemyślenie tradycyjnych teorii współpracy naukowej jest bardzo obiecujące. Jednocześnie inne empiryczne odkrycie, że wysoce produktywni naukowcy są odpowiedzialni nawet za 40-50% całej produkcji wiedzy akademickiej, sprawia, że ponowne przemyślenie tradycyjnych teorii produktywności badań jest również niezwykle interesujące. Kontekstem dla dokonania przeglądu dwóch zestawów teorii w pracy doktorskiej jest globalizacja nauki, która jest napędzana przez trzy nowe mechanizmy (samoorganizacja, przywiązanie preferencyjne i globalna produkcja elit) i która zmienia ogólny globalny – ponadnarodowy i międzyinstytucjonalny – podział pracy akademickiej. Dwie hipotezy robocze są następujące: (1) produktywność badań naukowych jest w coraz większym stopniu powiązana z nowymi wzorcami współpracy w nauce; oraz (2) pojawienie się nauki globalnej powoduje konieczność przemyślenia na nowo dwóch tradycyjnych i nakładających się na siebie zbiorów teorii socjologii nauki: teorii produktywności badań i teorii współpracy.