Marek Kwiek, at the invitation of the Board of the EUA, will speak at "The 2021 EUA Annual Conference" in April 2021!
https://eua.eu/events/131-2021-eua-annual-conference.html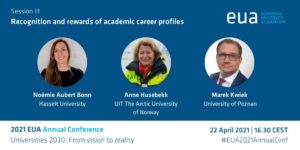 The European University Association (EUA) represents more than 800 universities and national rectors' conferences in 48 European countries. EUA plays a crucial role in the Bologna Process and in influencing EU policies on higher education, research and innovation. Through continuous interaction with a range of other European and international organisations, EUA ensures that the independent voice of European universities is heard.